Homeowners, architects, and industry professionals are now discovering the superior function of European-style windows and doors. Due to their advanced functional benefits and superior construction, tilt-turn windows and doors are finally making their way to North America. The tilt-turn window, engineered to withstand a century of harsh European winters, can also endure fierce coastal and island hurricanes. In fact, a properly designed tilt-turn window can satisfy the strict window manufacturing codes of Miami-Dade County, Florida.
Every tilt-turn window and door has two continuous gaskets that seal the entire sash. This double gasket helps provide superior weather and sound resistance.
The tilt-turn hardware makes even the largest window open with ease. No more sticky windows or difficult to turn crank-style handles.
Many American-style windows have exposed locking levers that require 2-3 steps to open. Tilt-turn windows can be opened with one hand and in one step.
Tilt-turn windows have several concealed locking points that go around the entire perimeter of the window. This multipoint locking system provides superior security and strength.
Cleaning is much easier. Inswing windows make cleaning the exterior of the window as simple as cleaning the interior.
Safety. For the safety of children and small pets, these windows and doors can be put into the tilt position. The tilt position of a window or door ventilates the room without the hazard of a wide opening that a curious child might fall out of. It is also very convenient for pet owners who can safely ventilate a room while their pet is home alone.
When in the tilt-open position, the window is impossible to open from the outside making it a safe way to ventilate an unattended house. The tilt-open position also enables the installation of a security sensor which will only sound an alarm in the turn-open position. This makes it possible for the security system to secure all the windows while giving occupants the option to tilt-open a window without causing an alarm.
Over time, the effects of structural settlement or seasonal movement of wood buildings might require your windows or doors to be adjusted. Our hardware system is among the most adjustable tilt-turn mechanisms in the world. It is non-proprietary and it has been used for over 10 years by more than one hundred European window manufacturers.
Tired of stuck or difficult-to-operate sliding doors? The lift-slide mechanism enables the effortless operation of even the largest doors. And we mean large; the lift slide mechanism enables the construction of double sash sliding doors up to 40 feet wide and quad-sash doors up to 54ft wide!

Our lift-slide doors are manufactured from the finest materials in a variety of woods, uPVC and aluminum. We use the German-made lift-slide hardware from Siegenia-Aubi and G-U, a manufacturer that has been making Lift-Sliding door fittings for over 50 years and has become the de facto standard for lift-sliding doors with over one million installations in Europe and North America.

The lift-slide hardware is based on the principle of separating the sliding action from the weather-tight seals similar to the sliding doors used on minivans. When you turn the handle, the hardware gently elevates the sash onto hidden 4-wheel carriages while lifting the door off its sealing gaskets. Even a 300lb door can be then moved with the effort of a single hand.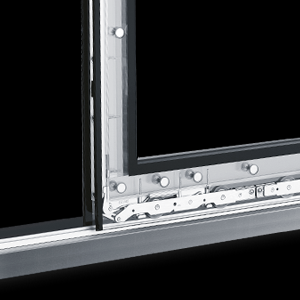 New threshold with a rise of just 3/4" makes it handicap accessible in accordance with DIN 18025 and its thermal insulation greatly exceeds the requirements of the German energy saving regulations (EnEV).
Can be used for timber thicknesses up to IV 92.
Night vent as standard.
Standard hardware already features basic security level, easy to upgrade to RC2 as per EN 1627-1630.
Functional frame corner connections ensure extremely stable corners and an aesthetically pleasing finish with the end caps.
A large range of handle colours allow for a variety of design options: white, brown, silver, nickel silver, matt titanium, and medium bronze
Handle can be coated after manufacturing: even the most unusual color requests can be implemented.
Architects want more variety and greater design flexibility. Builders want more light and increased comfort. You have found the solution that satisfies everyone: tilt & slide (PSK) elements with PSK PLUS hardware from SIEGENIA-AUBI. The PLUS stands for a wide range of improvements, which further enhance the PSK line that has proven itself in practical applications.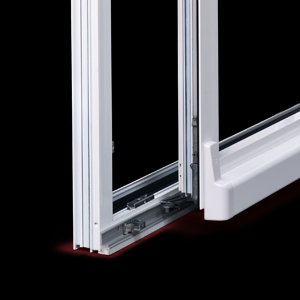 PSK 100 PLUS, PSK 130 PLUS and PSK 160 PLUS for small and medium-sized sashes for sash weights of 220, 260 or 350 lbs.
PSK 200-Z PLUS with handle control for large and heavy sashes weighing up to 440 lbs.
Comfort mushrooms throughout the system add security (up to level RC2 is possible.)
A frame to sash clearance of 5" also makes it suitable for elements with large profile thicknesses.
Running rail requires only 1.4".
For profiles with a 0.64" fitting groove in all frame materials.