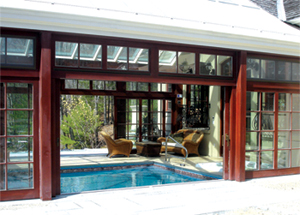 Tired of stuck or difficult-to-operate sliding doors? The lift-slide mechanism enables the effortless operation of even the largest doors. And we mean large; the lift slide mechanism enables the construction of double sash sliding doors up to 40 feet wide and quad-sash doors up to 54ft wide!
Our lift-slide doors are manufactured from the finest materials in a variety of woods and finishes. We use the German-made lift-slide hardware from G-U, a manufacturer that has been making Lift-Sliding door fittings for over 50 years and has become the de facto standard for lift-sliding doors with over one million installations in Europe and North America.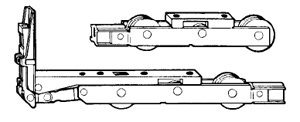 The lift-slide hardware is based on the principle of separating the sliding action from the weather-tight seals similar to the sliding doors used on minivans. When you turn the handle, the hardware gently elevates the sash onto hidden 4-wheel carriages while lifting the door off its sealing gaskets. Even a 300lb door can be then moved with the effort of a single hand.